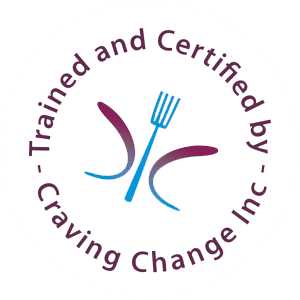 Scroll down and find a certified Craving Change clinician who can see you online or in person! Clinicians offer one on one Craving Change services and/or group workshops. Craving Change Clinicians include dietitians, social workers, psychologists, and other health care professionals. Many provide online (virtual) services. This means that you can work with a clinician located in a different city or town than where you live.
The clinicians work in a variety of settings including:
Private practice
Health care organizations such as Family Health Teams or Primary Care Networks
Companies- for instance Canada-wide with Loblaw in-store dietitians
Click here for more information about the program, individual counselling, workshops, cost and program resources.
This is a list of health care professionals who have completed Craving Change training and certification. The appearance of their name on this list is not an endorsement, but serves to enable public access to their services. (Note – Craving Change Inc. cannot ensure compliance with the program and is not responsible for the actions of these clinicians.) It is the responsibility of the clinician to ensure that their contact information is current. This list is not, under any circumstances, to be used as a mailing list.
---
---
United States of America Clinicians
---
Alberta
British Columbia
Manitoba
New Brunswick
Northwest Territories
Nova Scotia
Nunavut
Ontario
Prince Edward Island
Quebec
Saskatchewan
Yukon Territories
---
Australia
---
Hong Kong