Tools and training to
transform your practice
Purchase Now Licensee Login If you already have a Clinician License and would like to login to access the Resource Library or order more products, please click below, or "Login" at the top of the screen.


Ready to scale your business with groups?
Tired of writing all of your own client resources and programs?
Craving Change® provides you with everything you need to run programs that address the complexities of emotional eating. Incorporate a cognitive-behavioral framework, activities, and strategies into your individual and group practice, in-person and online. Developed by a clinical psychologist and registered dietitian, this program has transformed the practice of dietetics in Canada for over a decade. Over 3000 dietitians are Certified Craving Change Clinicians. 
Craving Change does not give dietary advice nor is it psychotherapy. It is designed to be used by a variety of regulated health care professionals in a wide range of settings, including multidisciplinary health care clinics, private practice, and corporate.
Click here to download a copy of the Craving Change one-sheet.
Framework of the Program
The full program is approximately 6 hours of facilitated, sequenced curriculum that covers the topics outlined below. Based on your role, setting, and clients' needs, you may teach the full curriculum or parts of the program. The program concepts and resources have also been adapted for individual counseling. 
Why it's Hard to Change – examine the influence of environmental, biological, and learning factors on eating.
What Needs Changing – build awareness of personal eating triggers.
How to Change – provide a menu of cognitive-behavioral techniques and skills.
Keep the Change – teach evidence-based strategies for sustaining new health behaviors
Improved Eating Self-efficacy
Thousands of clinicians have collected and shared client feedback. Clients have overwhelmingly reported:
Surprising discoveries about why they eat.
Feeling reassured that they 'are not alone' with their struggles.
An appreciation for the wide choice of practical change strategies.
Improved management of their food cravings and emotional eating using personally relevant tools and skills.
Decreased guilt and shame with their eating.
"Craving Change gives depth to my practice and client experience."
Kristyn Hall, RD – Energize Nutrition
Become a Certified Craving Change® Clinician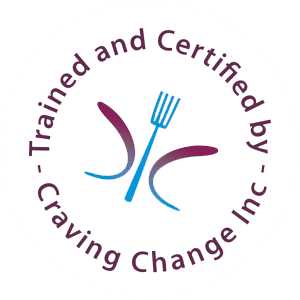 Expand your practice and address the needs of your clients in 3 steps.
Purchase a Complete Facilitator's Kit*– includes a three-year license and is shipped to your door.
Complete the online training and certification exam – takes ~10 hours.
Start using the tools and techniques! – with individual clients or group workshops, online or in-person.
Approved for 10 CPEU's for dietitians in the USA, by the Commission for Dietetic Registration.
*Cost: $595 CAD/USD/AUD/NZD Plus shipping & handling –
"Craving Change is very useful during these stressful times when food has become the one reliable and affordable companion and comfort in this pandemic."
Linda Akuamoa-Boateng, RD, CDE, Rexdale Community Health Centre, Etobicoke, ON
Craving Change Products
The Complete Facilitator's Kit is the "starter pack" for Craving Change products. It includes everything clinicians need to become knowledgeable, trained, certified and well-equipped with countless tools.
If you already have a license and would like to purchase additional products, please click on "Login" at the top of the page.
"I recently ran a Craving Change program by Zoom. It went really well and there was great group interaction. We had 100% attendance for all 4 sessions! I feel Craving Change has helped me in all aspects of communication with patients. Specifically, changing patients' negative thoughts on their health conditions to a more positive outlook."
Kimberly Gordon-Krushell, a Primary Care Network community nurse
Recertification
The Clinician License and certification are valid for three years at which time license renewal and successful completion of an online 35 multiple choice question re-certification exam is required. The cost to recertify is $95. The expiry date of the license and certification will be noted on the initial certificate and a reminder email will be sent. Clinicians who do not recertify are no longer licensed to use any Craving Change materials or resources in their practice.
When clinicians recertify, they receive:
A certificate with Craving Change Inc. and use of the certification badge for another three years.
Free self-promotion on the Craving Change website for the public and other health care providers.
A discount of 15% on all workbook orders for the duration of your re-certification – this is a savings of up to $47.25 per order!
"I often use a cognitive-behavioral approach to set aside self-judgment and explore unhelpful thoughts to improve emotions and change self-sabotaging behaviors. The Craving Change program is comprehensive and well organized. I appreciate that we can adjust the information according to the 'micro-culture' of the group."
Denise McClure, social worker with Horizon Health in New Brunswick
FAQs
License FAQs
Training FAQs
Certification FAQs
Intellectual Property and Trademark FAQs
Resources FAQs
Research / Outcomes FAQs
Customer Service FAQs
"Being trained in the Craving Change curriculum, I am more confident in the treatment plan for my clients and goals of our sessions. The Craving Change curriculum has given my counselling practice a clear sense of how to facilitate sessions with a client so that they can learn, practice skills and have more of a "brief" action plan in place. It is very effective for clients."
Jillien Humphrey, SW, Interior Health British Columbia
Craving Change® Book for
Kids and Parents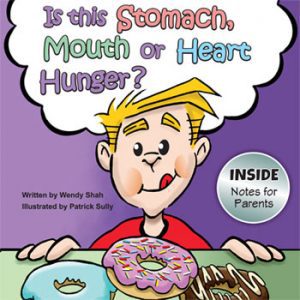 Since 2008, the Craving Change program has been helping adults who struggle to make positive, long-term changes to their eating habits. We now have a resource that addresses our 'relationship with food' at an early age.
This delightful, illustrated story follows Moe on a typical day as he discovers that he has three different kinds of 'hunger'. Click here to see samples pages of the story.
A four-page appendix provides parents and caregivers with an explanation of the simple eating self-awareness technique introduced in the story. The appendix includes suggested responses for each of the three kinds of 'hunger'. These tips and additional free, downloadable handouts can be used to help your child develop a positive and healthy relationship with food.
Check out a sample of a downloadable handout
This book was written in partnership with the Centre for Healthy Active Living at the Children's Hospital of Eastern Ontario.
Financial support was provided by the Dietitians of Canada DOC Network.
BOOK DETAILS
Genre: Life Skills for Children
Age: 4 to 10 years
Description:
Laminated, 8″ x 8″ soft cover
32 colorfully illustrated pages
Includes 4-page appendix for parents and caregivers
Provides online access to downloadable resources/ handouts
Also includes stickers!
Price: $11.95
Shipping only $4.95 anywhere in the USA!

Buy in bulk and save!
5 books for $50.00 (plus shipping)
About Our Company
A Canadian business created and owned by registered dietitian Wendy Shah and clinical psychologist Dr. Colleen Cannon, Craving Change Inc. was founded in 2008. The evidence-based program's licensed materials and online training are available internationally. Over 50,000 Craving Change client workbooks are in distribution. Craving Change Inc. services also include professional speaking and content development for corporate resources such as websites, customer newsletters and apps.
About the Co-Founders
Both Wendy Shah, RD and Dr. Colleen Cannon, RPsych. have decades of experience working with people struggling to make and maintain healthy behavior changes. Wendy has a strong interest in the psychosocial and environmental factors that influence our eating behaviors. She has won national professional awards in consumer communication and public education. Dr. Cannon is passionate about health psychology. She is skilled in systemic problem-solving, program development and making psychological interventions engaging and accessible. She is a member of the Academy for Eating Disorders and was an Adjunct Professor in the University of Calgary Department of Psychology from 2008-2011.